New loyalty program ! The PICK A SHOE PRIVILEGE allows you to seamlessly earn points and redeem them for online discounts. To become a member, create a free account here !


HOW DO I USE MY POINTS ?
Go to My Account > My Privilege Points
Redeem your points for a discount voucher that you can add to your cart.
The privilege points are valid for 1 year. The points can be used on all our shoes online with a minimum of € 80 of purchase. Promotion or sale items do not allow to accumulate points. If you have any question do not hesitate to contact us or read our terms.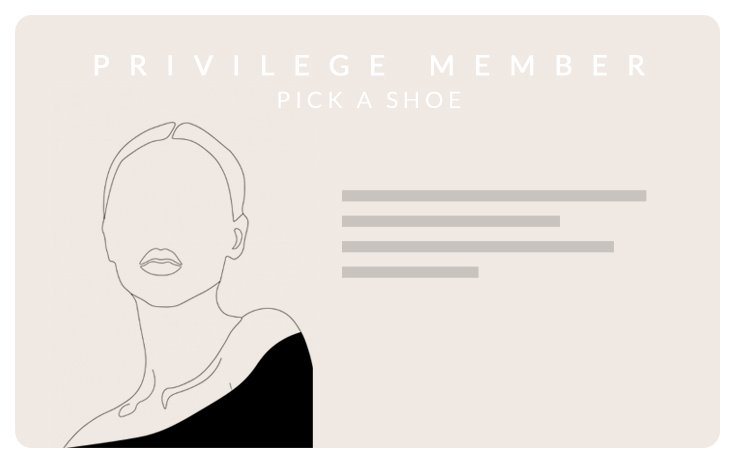 Spend your points when you want !
€ 1 = 1 point
eg : 150 points = € 5 discount
Note to my dear customers,
You asked for it, we did it : the PICK A SHOE PRIVILEGE program that rewards your loyalty ! We received many requests to create this program and we thank you for your enthusiasm & your ideas.
Each season we create an exclusive catalog of shoe brands that we select with passion. I get it, we get you shoe shopping cravings ! This is why our team has thought of this loyalty program that rewards your purchases with points that you can redeem for discounts all year online.
You appreciate our selection and dare to try out our new brands of shoe. As you know we are into a slow-fashion ethic and absolutely not in this frantic race for promotions that lower the level of the industry nowadays. We much prefer to reward the loyalty of our clients. PICK A SHOE was created to offer high quality shoes, with real durability. Quality has a price, an irreducible one when you only work with premium materials and meticulous craftsmen. There is so much reason to hesitate before buying new shoes ; by shopping among our selections at least you know that you are making a responsible choice and now you get rewarded for it !
Thank you for your loyalty,
Sincerely,
Cindy